What happened to the 1982 'E.T. Storybook'?
It's not just "Thriller" that celebrates its 40th anniversary in 2022. Steven Spielberg's smash hit movie "E.T. the Extra-Terrestrial" also shares the milestone. The lovable family film, released in May 1982, tells the story of a boy called Elliott who befriends a good-natured extraterrestrial called E.T. who is stuck on Earth. At the time of its release it became the highest-grossing film of all time.
The link of course between E.T. and "Thriller" is the storybook album for E.T. was narrated by Michael Jackson! Not only that but it was released in the same year as "Thriller" and was created by much of the same team. Quincy Jones produced, Rod Temperton (who wrote the "Thriller" title track) wrote the song "Someone in the Dark" which appears on the album and it was mixed by longtime MJ collaborator Bruce Swedien. Even Dick Zimmerman, who photographed Michael for the "Thriller" album artwork, took the accompanying photo of E.T. and Michael together.
Michael began work on the "E.T. Storybook" in June 1982, just a couple of months after the recording for the "Thriller" album began. Similar to when Michael recorded "She's Out of My Life" for his "Off the Wall" album in 1979, while recording his narration, Michael became so upset when E.T. died that he began to cry, and that was left in the released version. The album, which was available on both vinyl and cassette tape, contained the narrated story by Michael, which was interspersed with soundbites from the movie, and was bookended with an opening and closing version of the ballad "Someone in the Dark." The boxset included a large poster (22″ x 22″) of E.T. and Michael, and a 20-page paperback storybook, which had all the narration and lyrics inside alongside stills from the movie.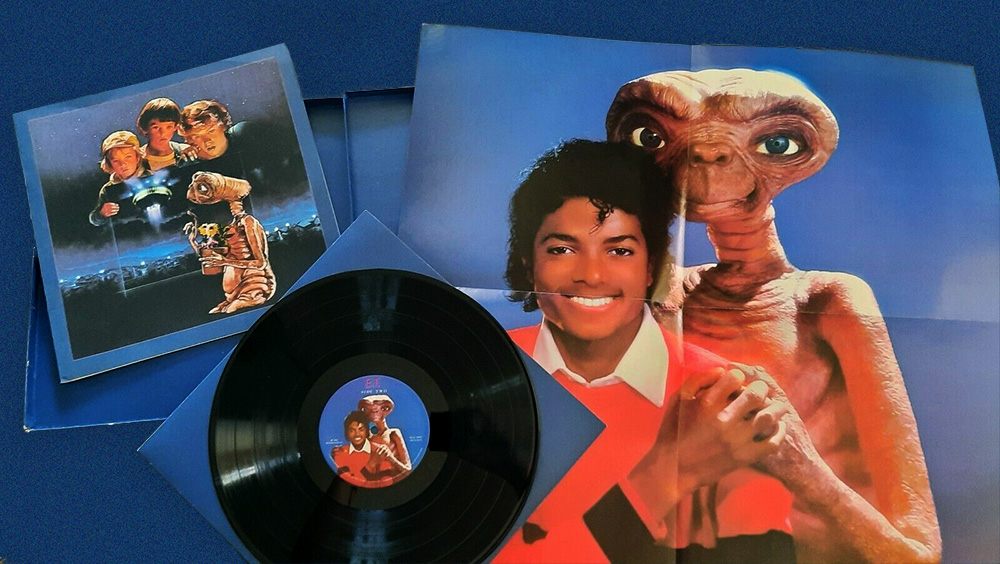 During its limited release (which is why it's such a collectors item!), "E.T. Storybook" reached number 37 on the Billboard 200 and number 82 on the UK Albums Chart. While it wasn't a massive commercial success, it was critically acclaimed and was one of the eight Grammy's Michael won in 1984 (for Best Recording for Children). On accepting the award, Michael said:
"Of all the awards I've gotten, I'm post proud of this one…honestly. Because I think children are great inspiration and this album is not for children, it's for everyone, and I'm so happy and I'm so proud and I just say thank you so much."
In the December 1982 issue of Ebony magazine, which featured the photo of E.T. with Michael on its cover, Michael spoke about his connection to the extraterrestrial:
"When I was doing that recording I really felt that I was E.T., and it was because his story is the story of my life in many ways. He's in a strange place and wants to be accepted – which is a situation that I have found myself in many times when traveling from city to city all over the world. He's most comfortable with children, and I have a great love for kids. He gives love and wants love in return, which is me. And he has that super power which lets him lift off and fly whenever he wants to get away from things on Earth, and I can identify with that. He and I are alike in many ways."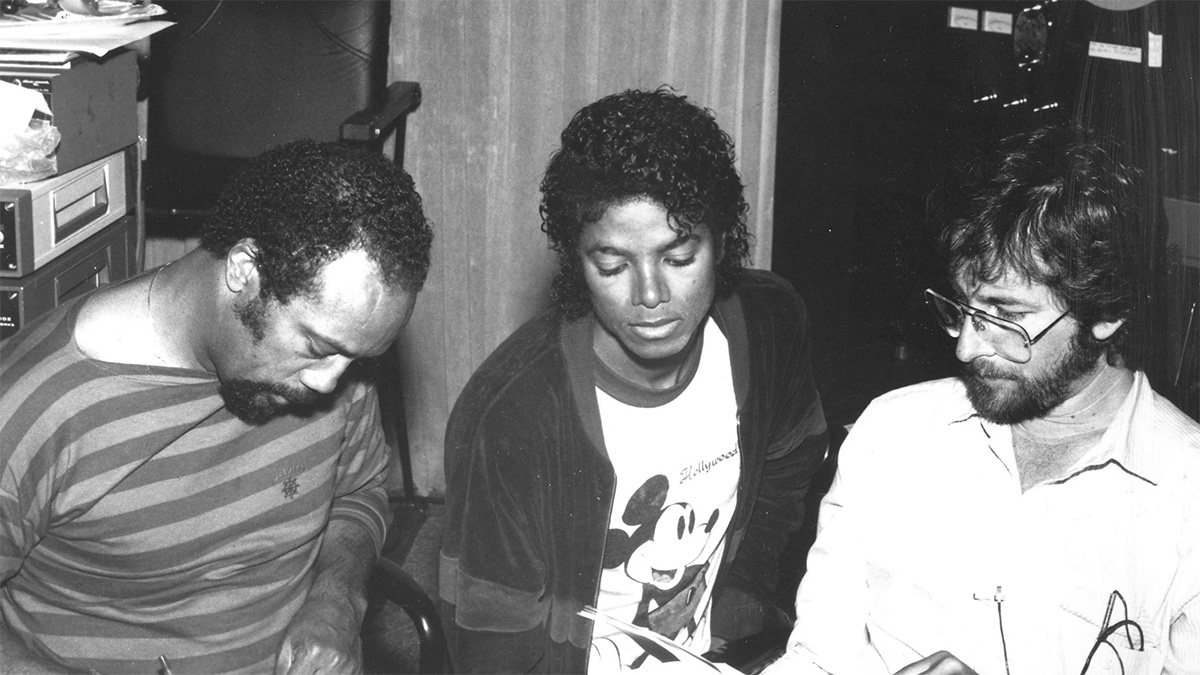 Why it's a collectors item
The "E.T. Storybook" has become a collectors item among Michael's fans…but why? It was meant to be released after Christmas 1982, however MCA released it on November 15th, 1982, just weeks before "Thriller." Due to the blunder (purposeful or accidental we'll never know) legal action was taken by Michael's record label Epic Records who lodged a $2 million lawsuit, which forced MCA Records to withdraw the album. More than a million copies of "E.T. Storybook" had already been pressed.
It wasn't just the release date that caused controversy. It was stipulated by Epic Record that the song "Someone in the Dark" was also not to be released as a single. Once again MCA breached this by providing 7″ vinyl promo copies of the track to radio stations. The lawsuit that was filed went so far to say that MCA Records should be banned from working with Michael in the future and that any other media owned by MCA featuring him should be prohibited from release.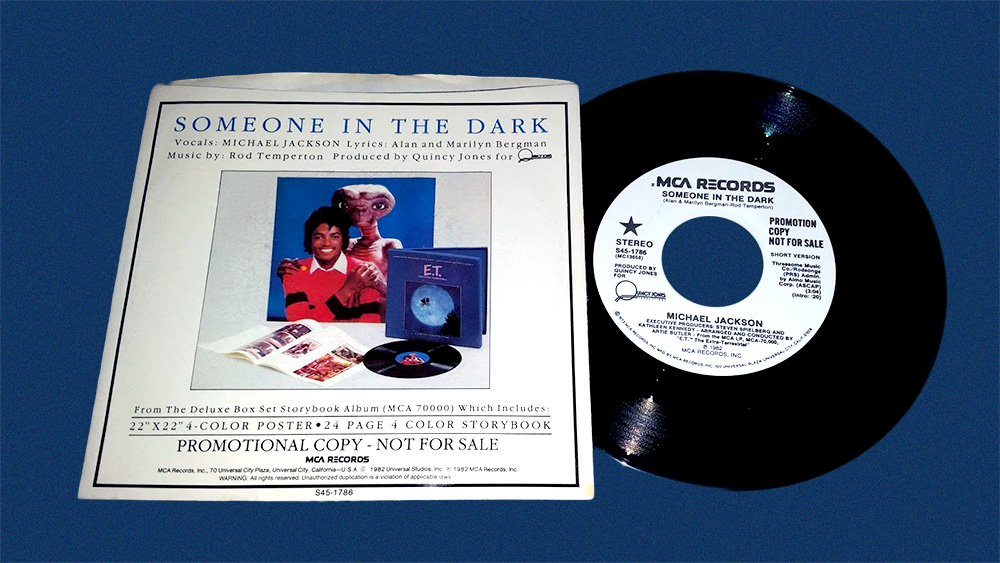 On accepting the award for Best Recording for Children at the Grammy Awards, standing next to Michael, Quincy Jones addressed the legal issues in his speech. After thanking everyone who worked on the album the producer said:
"And I don't thank the people that stopped this record from coming out. I thank Michael Jackson who gave every pound of blood he had as one of the greatest performers to put up with the hours and everything it took for this."
While the "E.T. Storybook" is considered a collectors item, due to the sheer amount pressed it's not considered rare and is regularly available on sites such as eBay. However the promo copies of "Someone in the Dark" are much harder to come by and considered very rare. Though the opening version was later included as a bonus track on the 2001 special edition of "Thriller" and as part of the 2004 box set "Michael Jackson: The Ultimate Collection," the closing version, which has slightly different lyrics, remains on the original Storybook only.
Ebony magazine
Read the article from Ebony magazine, where Michael speaks about E.T.:
Grammys 1984
Watch Michael and Quincy accept the award for Best Recording for Children.
Listen to the complete narration
Listen to Michael's narration pieced together with footage from the original movie: