Motown 25: The performance that changed everything
When "Thriller" was released at the end of 1982, its lead single was "The Girl In Mine." Launching that single six weeks before the albums November 30th release with a living legend like McCartney made a lot of sense, but the song itself is arguably the weakest track on the album. Rolling Stone called is a "wimpoid middle of the road ballad" and even called out McCartney for being "lame." Though a top 5 hit it in the US, it failed to hit number one anywhere except for Spain. Not a strong start to what will become the biggest selling album of all time.
But things soon changed, and changed drastically. As 1983 started, Michael released "Billie Jean" as the second single. The album was only out for a month by this point, and it took two months for the song to climb the Billboard charts to the top spot. It stayed put for seven straight weeks there. It became Michael's fasted rising number one hit since his first singles as part of the Jackson 5 thirteen years before. It also went on to become one of the biggest selling singles of all time. "Billie Jean" and the "Thriller" album topped the charts in the same week and in both the USA and UK at the same time, something quite rare back then (but a lot more common these days since streaming).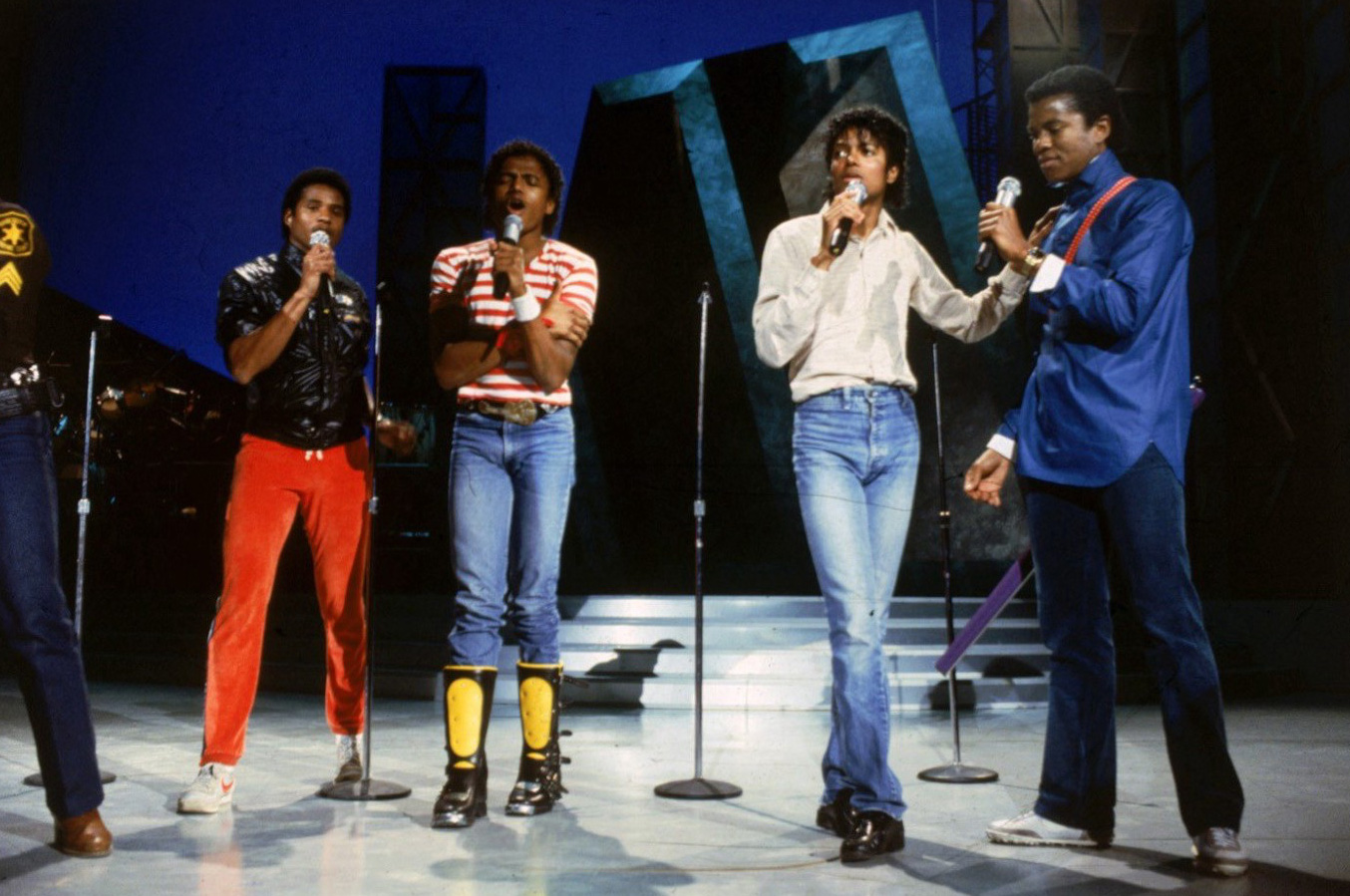 1983 was also the year Detroit record label Motown celebrated their 25th anniversary. Michael and his brothers, the Jackson 5, made their big break with the company back in 1969. To celebrate the milestone Motown decided to throw a concert with some of their biggest stars. This included Lionel Richie, Marvin Gaye, Stevie Wonder, Diana Ross, and The Temptations to name just a few.
Michael was of course asked to reunite with his brothers and perform some Jackson 5 hits. Michael initially refused as he didn't want to take the spotlight away from all the work and success he was having as a solo artist with "Thriller." However Berry Gordy, founder of Motown and mentor to Michael, visited Michael to ask him personally. Eventually the young singer agreed, however on one condition; that he could perform "Billie Jean." This was a contentious and bold ask as the song had nothing to do with Motown. But Gordy relented and the performance was booked.
"Motown 25: Yesterday, Today, Forever" was pre-taped. The recording happened on March 25th, at which point "Billie Jean" was at number one, and had been for nearly four weeks. The Jackson 5 were the fourth act to perform and even Jermaine joined his brothers on stage for the first time in eight years. The brothers performed a classic J5 medley, busting out the hits "I Want You Back," "The Love You Save," "Never Can Say Goodbye" and ending with "I'll Be There."
After huge applause and many on stage hugs, the brothers left Michael there alone. Grinning from ear to ear, Michael addressed the audience:
"Yeah those, I have to say those were the good old days, I love those songs. Those were magic moments. With all my brothers, including Jermaine. But er…you know those were good songs, I like those songs a lot, but…especially, I like the new songs."
He then put his microphone on the stand, picked up a black fedora from the floor, and slammed it on his head as the first beats of "Billie Jean" blasted through the speakers.
Wearing black tuxedo pants, sparkly socks in penny loafers, a black sequined jacket and a single while rhinestone encrusted glove on his left hand, Michael sang the song from start to finish, mesmerizing the audience as they clapped to the beat. The performance was lip-synced due to the backing band not being able to replicated the correct sound for the song that Michael would have wanted.
But it was during the instrumental bridge where Michael changed popular culture forever, and set his career on a new path of legend and icon. No-one was expecting that this performance would become a watershed moment in popular culture history.
Up to this point in the performance you already couldn't take your eyes off of Michael. He commanded all the attention. No-one in the audience wanted to miss a second that they would dare glance away. As the the music played Michael spun around, pulled up his pants, looked forward, and glided backwards. The audience went wild. Screaming and applauding what they had just seen, knowing there and then they had just witnessed history in the making. To end the moonwalk, Michael span around and landed on his toes for a brief moment (one that he later talks about with regret that it wasn't for longer). Michael had been practicing the moonwalk in his kitchen prior to the show, and nailed it.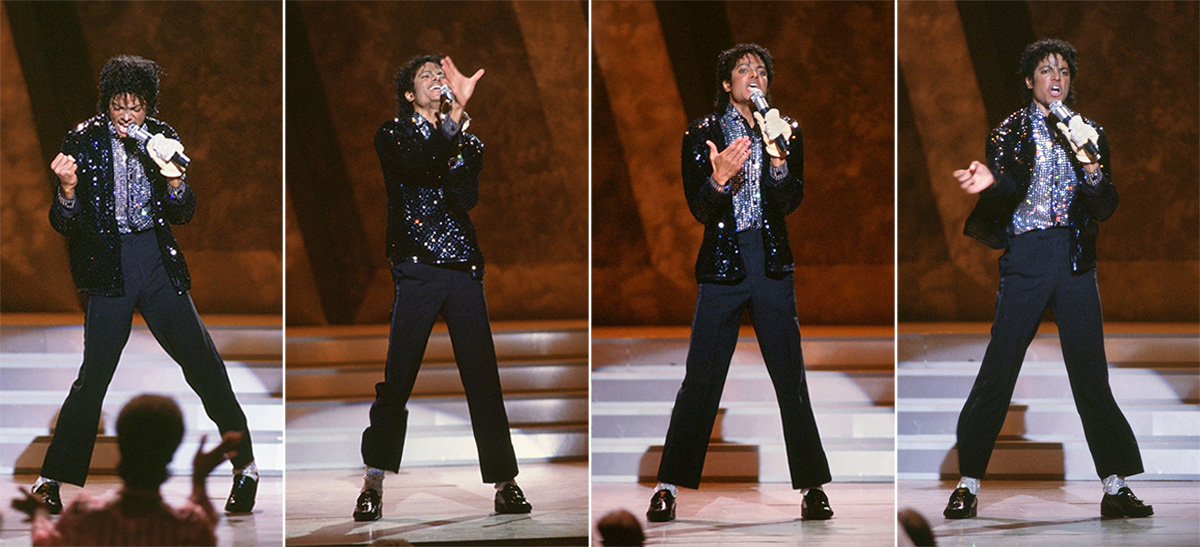 Nearly two months later on May 15th "Motown 25: Yesterday, Today, Forever" aired on TV and was watched by 50 million people. By this point "Billie Jean" was no longer number one, however "Beat It" was. There was only a week gap between Michael's two songs being at the top spot. After the show aired Fred Astaire called Michael to congratulate him on the performance. Sammy Davis Jr. also reached out to say how much he loved the performance. In September that year Michael gained an Emmy nomination for his show stopping routine.
In the years that have followed Michael continued to perform "Billie Jean" 100s of times during all his tours as well as various TV appearances. He kept the same routine that he debuted at "Motown 25," though it was refined and he mastered holding his toe stand for longer.
Michael's appearance is hailed to be his breakthrough performance as a solo artist, cementing his status as the biggest entertainer in the world. This was only reinforced as "Thriller" continued to explode in sales, becoming the biggest selling album of all time. His moonwalk has been ranked as the one of the greatest TV moments and one of the most important pop culture moments in music history.